This is wicked easy and wicked fast and on a hot summer day, it's also wicked refreshing!
The first time I made this was for my own baby shower. It was a surprise baby shower, so I had no idea that's what I was
really
making it for. My friend Joyce said it was a surprise birthday party for the office manager.
I really didn't want to go. Plus she'd asked me to bring a raspberry and a blueberry frozen yogurt pie. She said she was running short on prep time and really needed the help.
I made them, then tried to beg off of the party, saying I'd just drop off the pies. She convinced me to come, with promises of A/C and being political correct by putting in an appearance for the boss.
Fine... I went... I guess it's a good thing I showed up, because I was the guest of honor!
Frozen Yogurt Pie
1 8oz container of Cool Whip, thawed
2 6oz containers of yogurt
1 pre-made graham cracker pie crust
Mix Cool Whip & yogurt.
Spread into pie plate.
Freeze 4 hours or until firm.
Remove from freezer 15 minutes prior to serving; let stand at room temperature.
Slice & enjoy!
~~~~~~~~~~~~~~~~~~~~~~~~~~~~
So this is all you need... (for two pies)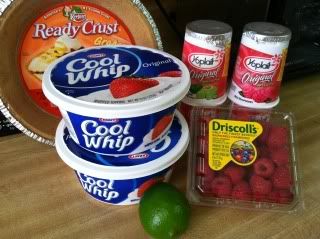 Raspberry first... 1 tub of Cool Whip... 2 containers of yogurt...
Stir...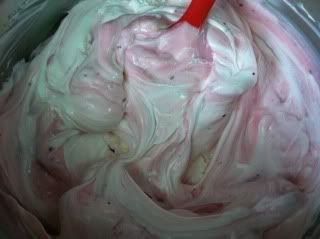 Stir some more...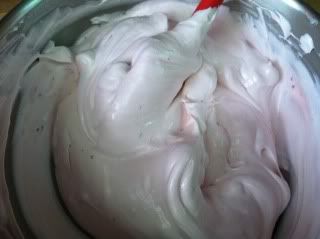 And into the graham cracker crust...
Decorate with raspberries...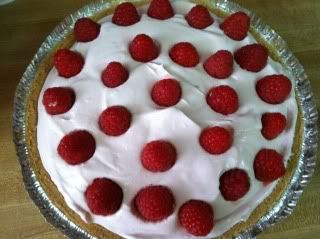 Flip the cover from the crust and reattach...
Now on to the lime...
The Key Lime Pie yogurt had a very mild flavor on it's own...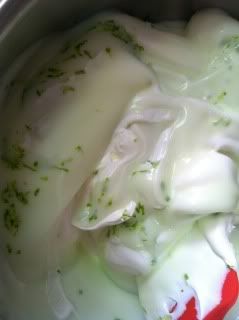 So I added the juice & zest of one lime...
I decorated this one with sugared lime slices...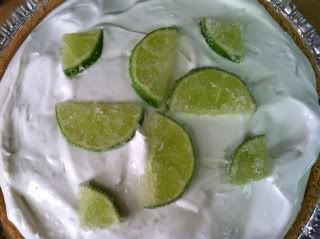 Now they're ready for the freezer...
I'm not great at cutting a pretty slice of pie...
But this is so easy. It goes together in 5 minutes. And you can just make one or two to have on hand in-case of unexpected guests.
It's creamy and flavorful and so versatile. You can use any flavors of yogurt and whatever kinds of garnishes you like!