My friend Susie brought this to a potluck a long time ago and I
had
to have the recipe. She just called it "Three Bean Shit". Her title definitely doesn't describe it. So one day at work, she rattled off the recipe while I wrote it down. Tawny was just a toddler at the time, so I wrote the title like this...
Susie's Three Bean Sh*t
Well sometime in my kitchen, I got that paper wet and parts of it blurred, including the title.
I was making it when Tawny was probably in the 5th grade or so and she looked at the recipe. She said, "
Bean Shot?
That's a weird name." My asterisk had blurred to look kinda like an "o". She still calls it Bean Shot. I renamed it
Three Bean Casserole
for the blog because I try to get a G rating around here.
Without further adieu...
Susie's Three Bean Casserole
aka
Three Bean Shit
aka
Bean Shot
1 lb. lean ground beef
1 lb. bacon chopped
1 medium onion, diced
1 can (15oz) pork n beans
1 can (15oz) lima beans
1 can (15oz) kidney beans
1 cup ketchup
1 cup brown sugar
Tbsp Worcestershire sauce
2 tsp dry mustard
2 Tbsp vinegar
salt and pepper to taste.
(do not drain the juices from your cans)
Preheat oven to 350F
In a large skillet, cook ground beef, chopped bacon & onion. Drain.
Move meat mixture to a large baking dish along with all other ingredients.
Stir until well mixed.
Bake 45 minutes at 350F.
Enjoy!
~~~~~~~~~~~~~~~~~~~~~~~
This is wicked easy and can totally be done ahead of time!
Chop your bacon and onions.
Toss it into a skillet with the ground beef, when cooked through, drain fat.
Add beans.
Add them juice and all.
Add remaining ingredients.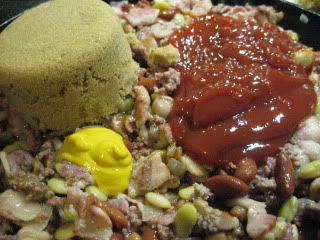 Mix well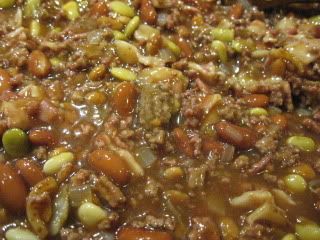 Now bake at 350F for about 45 minutes. You could also just cook it in a dutch oven over a fire!
We served it up with some haluski, broccoli salad and grilled chicken!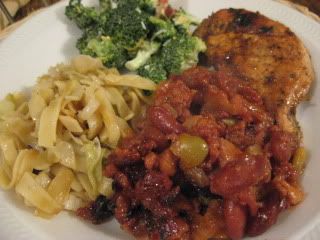 This is wicked good! It's awesome at a BBQ or potluck... make it on gameday for tailgating or for the crowd at your house... It's beefy bacony baked beans... like baked beans on steroids!
Try this! You won't regret it!