Our friends Jeff & Whitney invite us up to their place on Lake Pymatuning every summer. Whitney and I try to put together a weekend menu and do most of the prep before we head up to the lake.
When I was thinking it over in my head, I realized that there wasn't a chocolate dessert. I don't really care for chocolate, but pretty much everyone else loves it.
Jon made this recipe up standing in the kitchen as I was headed out the door to pick up everything I needed for my share of the cooking.
He's the brains in this operation (ummm recipe) I'm the muscle (I did the work!)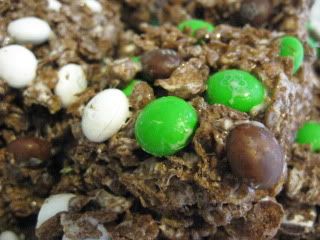 Jon's Cocoa CocoNut Cereal Bars
1 box Cocoa Pebbles (the small box I think it's 13oz)
1 bag mini-marshmallows
1/4 C butter
9 little bags (1.5oz) Coconut M&Ms (about 2 cups)
Melt the butter in a big pot. Add marshmallows and stir until coated. Cook over medium low heat, stirring until all marshmallows are melted. Pour in Cocoa Pebbles and still until well coated in marshmallow. Fold in Coconut M&Ms. Pour into a parchment paper lined or non-stick 13x9 pan. Press firmly. Cool. Cut. Enjoy!
~~~~~~~~~~~~~~~~~~~~~~~~~
I started by opening all those bags of Coconut M&Ms.
Then it's your basic cereal bar recipe!
Melt the butter...
Add the marshmallows...
Stir...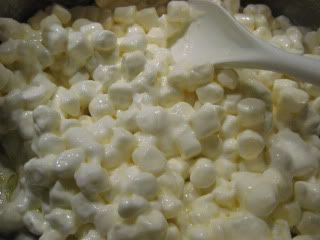 Until melty...
Add cereal...
Stir some more...
Add M&Ms...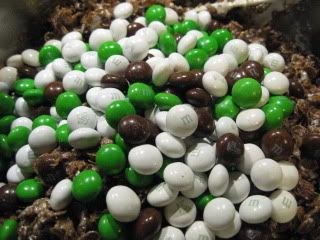 Fold them in...
I try to do that as gently as I can. I don't want to mush up the M&Ms since the marshmallow is still warm.
Press it into a 13x9 pan...
Cool... Cut... Enjoy!
If you like Chocolate and Coconut... you'll love these!