Hey... remember me??
Please forgive my recent absence. I've embarked on a new healthy lifestyle. I'm eating balanced healthy meals and exercising EVERY day! Some of my balanced healthy meals have been a major FAIL... others are tasty and delicious. But it takes a LOT more time and planning to be consistent. So, I think I
finally
have the healthy eating and exercising thing down. (I've lost over 30 pounds and 22 inches this year!) Yay me!
But I think I can finally get back to blogging!
So anyway... It's Cinco de Mayo!
I LOVE Cinco de Mayo!!
I really don't know anything about The Battle of Puebla, other than the Mexican Army beat the French. I just love Mexican food and tequila! Also it's my mother-in-law's birthday. (Happy Birthday Judy!) I wish it was my birthday! But then I wouldn't be an Aries... hmmm... nevermind... I'll just eat Mexican food and drink tequila on my birthday... but I never seem to do that, now that I think about it. Ok... that's why I try to always have a Cinco de Mayo party! Although technically it will be Ocho de Mayo this year.
Anyway... today is Huevos Rancheros... Three Ways!
The perfect way to get back to blogging on Cinco de Mayo!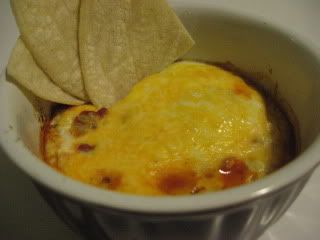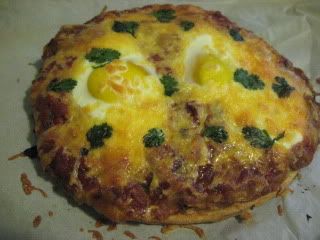 First you'll need to make a Rancheros Sauce. It's
wicked
easy!
Rancheros Sauce
2 small yellow onions, diced
2 large cloves of garlic, minced
1 large jalapeno, diced
1 large can of diced tomatoes (about 3 cups)
1 TBLS fresh cilantro, chopped
1 tsp chile powder
1 big pinch cumin
a little veggie oil
Heat a little veggie oil in a skillet. Saute onions, garlic and jalapeno until tender. Add tomatoes. You can totally use fresh tomatoes, but I made this during the winter, in Pittsburgh and the tomatoes around here at that time of the year aren't very flavorful. Simmer that for a few minutes and add chile powder, cumin and cilantro. Simmer a few more minutes. Blend with a stick blender. I like it to still be a little chunky. But blend to your chunky preference.
That's it! Wicked easy, right?
~~~~~~~~~~~~~~~~~~~~~~~~~~~~~
Chop up the veggies.
And get them sauteing in a little bit of oil.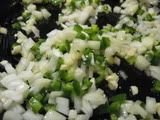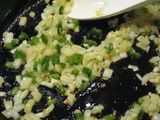 Add tomatoes and simmer a few minutes.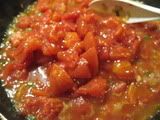 Add chile powder, cumin & cilantro and simmer a little more.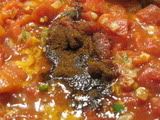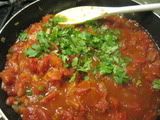 If it's too chunky, hit it with the stick blender a little. I gave it the smallest whir.
Now you have Rancheros Sauce!
It's time for Huevos Rancheros!
First I went classic.
Fry up a couple of Over-Easy Eggs.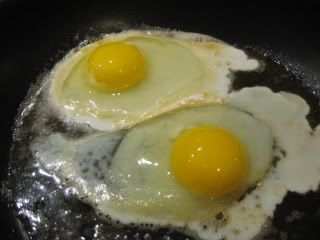 Heat a couple of Corn Tortillas.
Add some heated Refried Beans.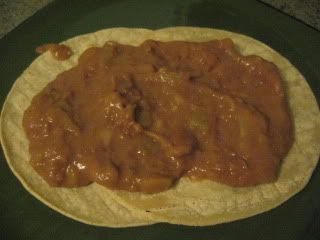 Slide those beautiful Over-Easy Eggs on top of the Refried Beans.
(not sure what happened to the light here!)
Add some of that gorgeous Rancheros Sauce and some fresh Cilantro and breakfast is served!!
I had plenty of Rancheros Sauce, so the next day I put a Mexican spin on my
Eggs in Purgatory
.
Pour some of that lovely Rancheros Sauce into a ramekin.
Crack in a nice fresh egg.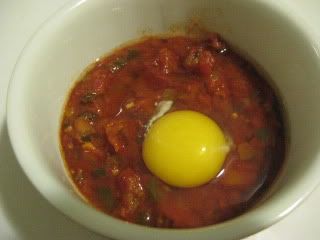 Sprinkle with a little cheese.
Cojito would have been nice, but I only had Colby/Jack, so that's what I used.
Bake at 375F for about 10 minutes for a soft yolk.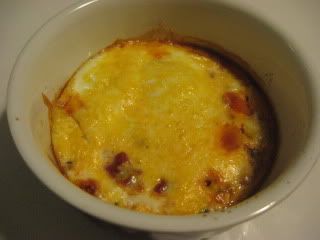 And why exactly did I neglect to put cilantro on this??
Serve with warm corn tortilla wedges.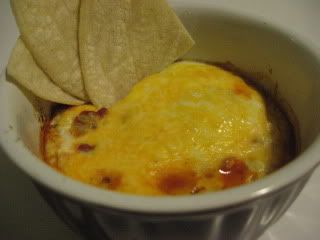 Mmmmmm.....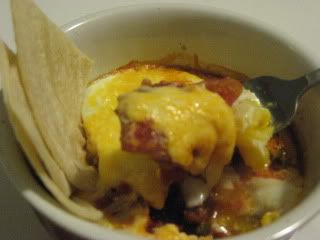 And on the the last version...
Huevos Rancheros Pizza!!
Thanks to
Shane of Culinary Alchemist
for the idea!
First you need pizza crust.
Make your own or use a prepared crust.
I used a prepared crust, because I had one.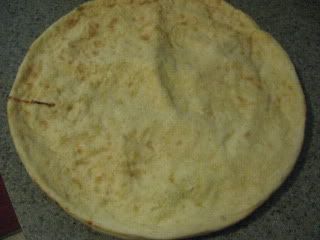 Spread on some refried beans.
Some of that gorgeous Rancheros Sauce!
I made little wells in the sauce, then cracked in two eggs.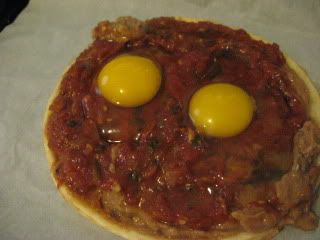 Sprinkled on some Colby/Jack Cheese.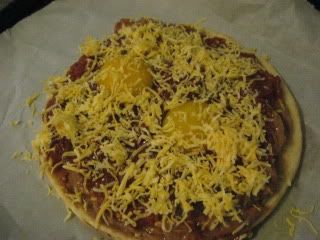 Some fresh Cilantro
And into the oven until the eggs are set and the cheese is melty!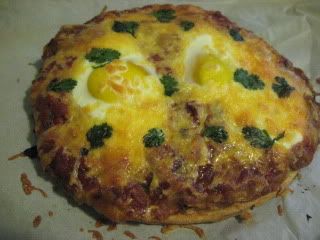 Breakfast for two!
I have to say, I loved all of the versions of Huevos Rancheros that I tried that week. But my favorite would have to be the pizza!!
I'd LOVE to have one of those right about now!!
Happy Cinco de Mayo!