So I had my Ocho (
Cinco
) de Mayo Party on Saturday.
Since I had margaritas &
sangria
& Mexican beer, I decided I wanted a special drink for the younglings too. They usually just end up with soda and juice boxes and water... nothing special or fun about that.
So I was trying to think of something good and came up with Horchata. It seemed like a popular drink when I was living in Southern California, although I'd never tried it. I started looking up recipes. Horchata is Cinnamon Rice Milk. And many descriptions called it creamy... but many also called it refreshing. To me, the two words don't seem able to describe the same thing. Was I ever wrong!
All of the recipes were wicked easy and very similar to each other. This is what I put together. The hardest part was waiting, since it has to 'soak' in the fridge overnight.
Horchata
1 3/4 C long grain white rice (uncooked)
2 cinnamon sticks
7 C water
3/4 C milk
1/2 C sugar
1 TBLS vanilla
Place rice, cinnamon sticks and about 2 cups of water in blender.
No cooking for this recipe =)
Blend until rice and cinnamon sticks are roughly ground. Add remaining water and blend some more.
Pour into a pitcher and let it soak in the refrigerator overnight.
Strain out rice and cinnamon sticks (you can save this for rice pudding).
Add milk, sugar and vanilla. Stir until well combined.
Serve over ice.
Enjoy!
I don't really have any step by step pictures for this, because I was crazy busy and just wanted to go to bed by the time I was getting this ready for the fridge.
The next morning, strain out the rice & cinnamon sticks.
I poured it through a sieve.
Then stir milk, sugar and vanilla into the liquid.
That's it!! How easy is that??
Hunter, one of my youngest (and cutest) party guests, gave the BEST review a hostess could ask for!
She said, "
It dances in my mouth and laughs all the way to my stomach!
"
How great is that??!!!
Here's Hunter with her Horchata and a Mexican Brownie.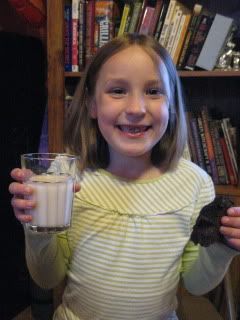 (Mexican Brownie recipe coming soon!)
This really was so refreshing! I was very pleasantly surprised with how yummy this was!
If you try it, I hope you like it! We did!