So I was trying to decide what to make for breakfast yesterday.
What I really wanted was a
Breakfast Burrito
, but I didn't have any sausage.
So while standing looking into the freezer, waiting for something to jump out at me, I noticed half a bag of frozen french fries.
Then I remembered Bob's
post
over at
Cooking Stuff
, about using leftover fries.
I figured to a family of five, half a bag of frozen fries counts as leftovers, then tried to think of something cool to do with them.
For whatever reason, probably the lack of sausage, I thought I'd add them to hotdogs in some kind of egg thing.
Yeah... hotdogs & fries in an omelet... with cheese! Isn't everything better with cheese?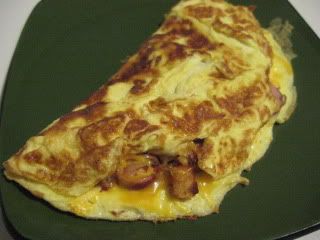 So I cooked up the fries really fast in the toaster oven.
Fried up some hotdogs and a shallot that was just sitting on the counter.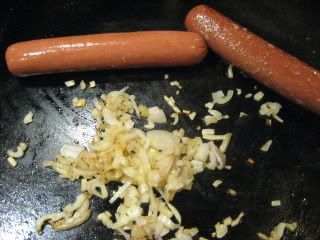 Then I poured some eggs whisked with a milk and salt and pepper into my non-stick skillet and let them start to set up.
When the eggs were mostly set... I added some sliced hotdogs, cut up french fries, fried shallots and shredded cheddar cheese.
Then fold it over...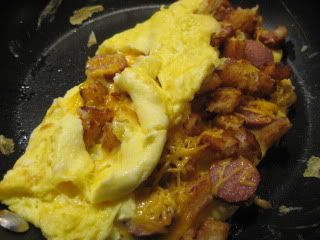 Yeah... first one... not so pretty...
But they get better looking as I go!
By the time I got to the 5th one... they look pretty decent!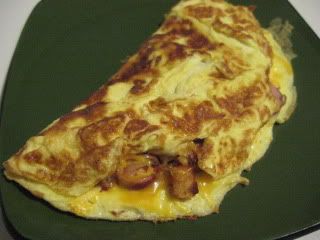 Now when I was almost done making these, it occurred to me that these would have been a million times better with chili!! For Chili Dog & Fries Omelets. But I didn't think of it in time. Maybe next time!
You might think this sounds weird or gross... but I'll tell you what... they were pretty damn good!
My picky family of five all ate them, with no adjustments... to me that counts as a crowd pleaser!