I get regular emails from
WholeLiving
. It's a Martha Stewart website, and although I'm not a Martha fan... I love the Whole Living magazine and website.
Anyway... quite a while ago, a recipe showed up in my email for
Seven-Onion Soup
. Most recipes that land in my inbox get a quick glance at the recipe name, then I hit the delete button. But some I actually open, then I hit the delete button. This looked pretty tasty and lighter than regular French Onion Soup. So it languished in my inbox for a while, then I eventually moved it to a recipe folder in my email, where it rested, waiting for me to take another look.
Finally a couple weeks ago, when it was VERY cold, I decided it was time to give this one a try.
Jon doesn't like onions at all... neither does Bobby and Lilly wasn't at our house that weekend. So I was hoping it would be REALLY good, since it would be just Tawny and me eating it.
Seven-Onion Soup
2 TBLS extra-virgin olive oil
2 red onions, coarsely chopped
2 white onions, coarsely chopped
2 yellow onions, coarsely chopped
12 fresh pearl onions or 10 ounces frozen
3 shallots, coarsely chopped
2 leeks, washed and cut into 1/4-inch rings
4 medium bunches of chives, coarsely chopped
1/4 C Marsala wine
6 C Beef Stock, or low-sodium canned
2 TBLS coarsely chopped dried porcini
1 TBLS fresh thyme leaves, plus 4 sprigs of thyme
In a large soup pot, combine red, yellow and pearl onions and shallots with olive oil and saute until golden brown and soft.
Add leeks and chives and continue cooking until onions turn a deep golden brown. (about 5 minutes according to the directions)
Add the wine and cook a couple more minutes.
Next add 2 cups of stock every 15 minutes for the next 45 minutes.
Add the mushrooms and thyme leaves with the last addition of stock.
The soup is supposed to very deep brown.
Ladle into soup bowls and garnish with thyme sprigs.
~~~~~~~~~~~~~~~~~~~~~~~~~~~~~
Ok... so start with your Seven kinds of Onions.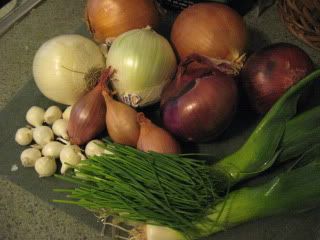 It was like Onion-Warfare in my house while I was chopping these. I didn't cry too much, but the onion fumes took over the entire house. Jon and Tawny were significantly less than thrilled.
So get the red, yellow, white and pearl onions, plus shallots and olive oil into the soup pot.
I used garlic infused olive oil.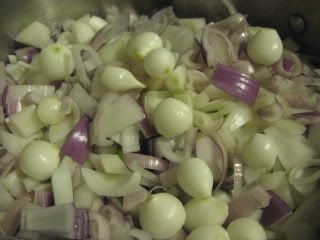 Hmmm....
Soft... but definitely not golden...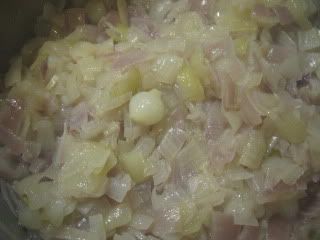 Well... it had been quite a while and I was getting no gold... so I moved on. Perhaps that was mistake number one?
Add leeks and chives.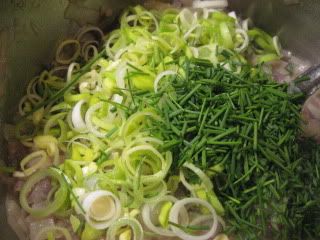 Now 5 minutes to deep golden brownness?
Hmmm... no deep golden brownness going on in this pot... not matter what I do.
Well... on to the next step I guess.
I couldn't find dried porcini mushrooms by themselves.
So I picked up this steak blend. I figured since porcini was the first one listed, there should be a decent amount of them in there.
I just used the whole bag. It was a little more than 2 TBLS.
Shrooms & thyme into the pot with the first addition of stock.
Followed by the remaining stock, two cups at a time, in 15 minute intervals.
Ok.... so I should have very deep brown soup right? Hmmm... not really.
But my onions never browned up. And this soup took me well over 2 hours to make.
Ok... not deep dark brown... but it's onion soup.
So I put some homemade croutons into a bowl.
A good pinch of shredded swiss cheese.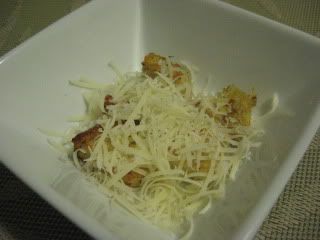 (I had a nice block of aged gruyere in the fridge someplace, but my fridge absorbed it! I have since found it!)
Now to ladle in some soup.
It would be much browner if the onions had browned.
So even though it wasn't brown it was still good, right?
Well... this soup was way too sweet for my taste.
And it didn't have that deep down comforting robust onion soup flavor. Ya know what I mean?
Tawny didn't really care for it either.
If you like a sweeter onion soup, definitely give this a try.
The croutons totally ROCKED. So I guess it wasn't a total waste!
Will I try this recipe again? Probably not. I'll look for a more traditional French Onion Soup recipe.
But the email is no longer languishing in the recipe folder of my inbox.