Hey long time no see!
I've been off being lazy and totally addicted to Cafe World on Facebook. Not a lot of actual cooking, no blogging, not blog reading, just playing Cafe World!
But I'm back... still addicted to Cafe World, but also finally doing some actual cooking too!
Way back before Thanksgiving I made
Eggnog French Toast
. Remember that? It was wicked good!
Anyway... when I made that, I bought a big loaf of Texas Toast bread, but only used about half of it.
I asked Jon if he had any suggestions on what to do with the rest. He said I should make Frisco Melts, ya know... like they have at Steak & Shake. It was really weird, because I was kinda thinking the same thing. It was weird because Frisco Melts are on regular sourdough bread... not big thick square white bread. So it was a little odd that we both had the same thought. But obviously if we both had the same thought, Frisco Melts had been destined to be in our future.
So the first thing I had to do was find a recipe for that awesome sauce on the Frisco Melts.
Online I found that there are mainly 3 variations of it. So I made all three to decide which one we liked best. However, we were split, but one was a definite NO.
Sauce #1 (top of picture)
2 parts thousand island dressing
1 part french dressing
Sauce #2 (on left)
2 parts thousand island
1 part ketchup
Sauce #3 (on right)
1/4 C mayo
1 TBLS + 1 tsp ketchup
1 tsp sugar
1/2 tsp pickle relish
I'll just tell you right now, Sauce #3 was definitely NOT it.
Tawny and I thought that Sauce #1 was right on. Jon thought Sauce #2 tasted more like the actual sauce. So, Sauce #3 got scraped into the trash and I just used both sauces. Tawny, Lilly & I had #1 and Jon had #2. Bob had no interest in a Frisco Melt and fended for himself that night. (or FFY as we call it in our house!)
These are insanely easy to make.
Frisco Melts at Home
Ground beef
Texas toast, 2 pieces per sandwich
American cheese, 2 slices per sandwich
Swiss cheese, 1 slice per sandwich
Butter
Frisco Sauce of your choice (seriously #1 is the best!)
The hardest part is making the burgers thin enough. Those are really skinny patties.
Just plain old ground beef (ok, not old)
(Yikes... sorry that's fuzzy!)
You need to make two skinny patties for each sandwich that you're making
Fry 'em up.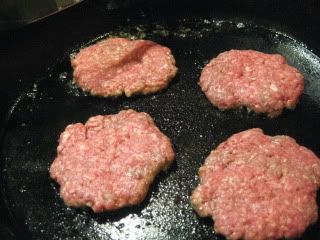 While those are cooking, lightly butter both side of all of the pieces of bread and toast them in a skillet.
Oh and be sure your skillet isn't too hot, you want all of the cheese to melt, without burning the bread.
When first side is toasted to golden brown turn them over.
(Pictures here change from making two sandwiches to making one, because these came out better!)
Spread the sauce of your choice on the toasted side.
Cover the sauce with a slice of American Cheese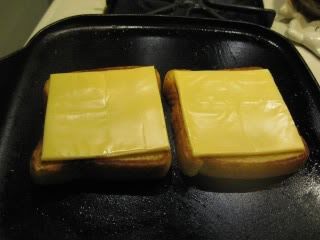 Now place a cooked hamburger patty on one of the toasts.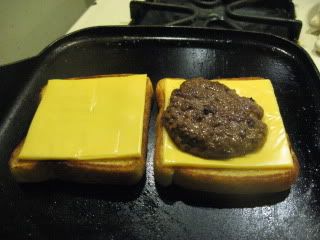 Cover the hamburger patty with a slice of Swiss cheese.
Top the Swiss cheese with another hamburger patty.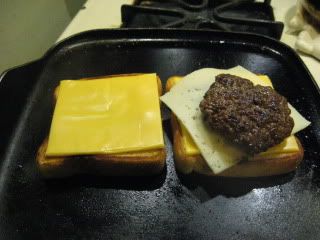 Then flip the other toast on top of the last patty (cheese side in)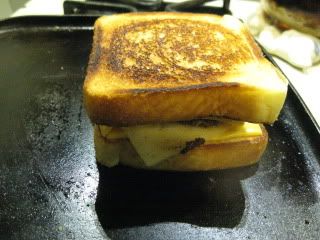 It's not very pretty... but it tasted perfect!
You can see that little layer of Swiss in the middle!
These were great!
I just made them again a couple days ago. I decided that I'd use sourdough bread this time, to make them even more like the original. But I have to say, the Texas toast stands up to this sandwich much better than regular sourdough.
Also Bob had a friend over, so I had him taste both sauces and he agreed that #1 tasted most like Steak & Shake!
If you love Patty Melts... you definitely need to try this!