The first time I had a Chicken Philly Sub was walking through the food court at the mall. I was walking by
Charlie's Grilled Subs
and they were giving out samples. I tasted that little slice of sub and went straight to the register. I was hooked!
Then recently I was thinking... I make
Steak & Cheese Subs
fairly often, why don't I ever make Chicken Philly Subs?
I couldn't come up with a single reason and started making my shopping list!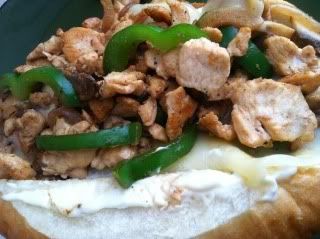 Chicken Philly Sub
Boneless Skinless Chicken Breasts, sliced very thin
Onions, sliced thin
Bell Pepper, sliced thin
Mushrooms, sliced thin
a little oil
Provolone Cheese, slices
Sub Rolls
Mayo
Lettuce, shredded
Tomato, sliced
Slice chicken breast very thin, then cut across too, so you have very small thin pieces.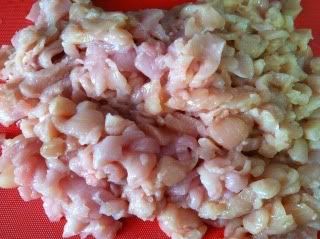 Slice up your veggies.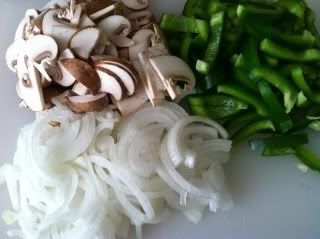 While you're slicing veggies, might as well slice the lettuce & tomato too.
Since you're slicing things... slice those rolls too... not all the way through.
Preheat a skillet with a little bit of oil. Add chicken, onions, peppers, and mushrooms.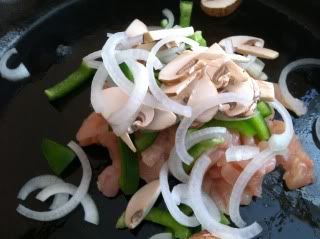 Cook until chicken is cooked through and veggies are tender.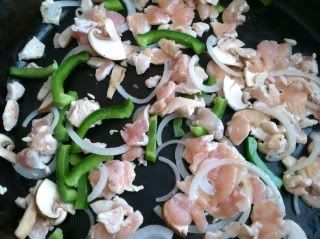 Meanwhile, spread desired amount of mayo on sliced sub roll. I like a generous slather. Then add tomato slices and shredded lettuce.
Scrape chicken and veggies into a sub roll sized pile and place slices of provolone cheese on top.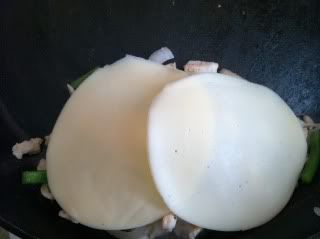 Let the cheese get melty.
Now with a long spatula, scoop the chicken & veggies & cheese into the sub roll.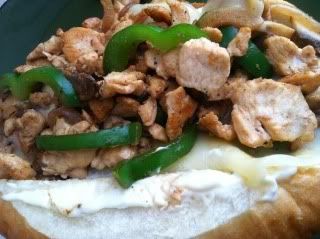 You might be thinking.... "Ummmm... Spryte? Where's the lettuce and tomato?"
Yeah... I totally forgot it! But it sure did look nice on the cutting board didn't it?
Time to dig in. I just love these and my family seems to groove on them too. Even when I forget the lettuce & tomato!
These are wicked fast and easy to make and so much better than any sub shop!