These are cookies that are made with a cookie press. I've had a few different styles of cookie press over the years, but I have to say my absolute favorite is the old style one my mom had. I ended up getting this beautiful tool on eBay a couple years ago.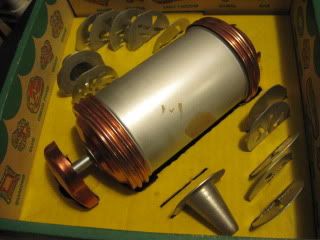 My first cookie press was the ratchet style.
Then I had a couple of electric ones.
I hated the electric cookie press and to a lesser degree the ratchet style. The dough from the ratcheted press never seemed to come out at a consistent rate. The electric ones were even worse. I like the nice even turn of the screw from my vintage press.
Anyway... these cookies have been on Mum's Christmas Cookie trays for as long as I can remember. I know, you're saying, "Come on now Spryte, it's almost Valentine's Day." But really, even though I've only made these cookies at Christmas time, I'm going to make a concentrated effort to make them throughout the year this year!
The cookie discs are definitely usable for the whole year!
The only problem is I tend to forget which cookie discs I actually have. None of the discs from my previous presses are interchangeable and sometimes I end up looking for a disc from the past.
These are my current discs.
Of course there's the star for cheese straws and the little spikey line thing for bar cookies.
I have all the suites from a deck of cards. I could be making these every time we have friends over for an evening of cards & food.
The hearts and flowers would be great for Valentine's Day.
Butterflies & flowers are good all spring and summer, plus tea parties or bridal showers, or the Cookie Table at a wedding.
The dog, well.. maybe you could make some as a gift for your dog walker or vet... or those hard working people at the humane society.
The camel... hmmm... ummmmm... ok... I know! Hump Day! Everyone needs special cookies for Wednesday right?
I've been making these my whole life and I know this will sound dumb, but I only found out they were called Spritz Cookies within the past couple of years! Mum always called them Press Drop Cookies. So that's what I call them!
Press Drop Cookies
1 C shortening
3/4 C sugar
1 egg
1 tsp extract (almost is my favorite)
2 1/4 C flour
1/4 tsp baking powder
1/2 tsp salt
Preheat oven to 375F
Cream together shortening, sugar, egg and extract. In a separate bowl, whisk together flour, baking powder and salt. Mix into shortening & sugar mixture until completely blended. I always color the dough. So when it's thoroughly mixed, add food coloring and mix until desired color is reached. Select a shape, load dough into barrel of cookie press. Press cookies out onto parchment paper lined baking sheets. Decorate with jimmies or colored sugars if desired. Bake at 375F for 7 - 10 minutes. Cool on racks.
~~~~~~~~~~~~~~~~~~~~~~~~~~~
So cream together shortening, sugar, egg and extract. I almost always use almond, but really, you can use whatever you like! Lemon, peppermint, rootbeer, coconut, butter... it's totally up to you... ya know... just typing this out kinda makes me wanna change it up a little next time!
Mix in the flour mixture.
Time for color!
Green, Red & Blue
I was making Green for Christmas trees, Red for Poinsettias, and Blue for ummm.. for some reason I was thinking they were going to be Stars.. but they turned out to be diamonds... so Blue Diamonds! (aren't there Blue Diamonds in Lucky Charms?)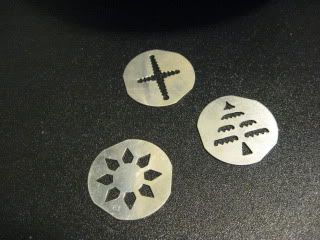 It takes a lot of mixing to get the colors worked through the dough.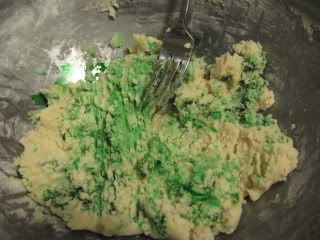 But it does eventually get blended.
Insert your disc of choice.
Load the barrel with the appropriately colored dough.
Screw down the press until dough is firmly packed in the barrel.
I find 1/3 of a turn to be the perfect amount for this dough.
You can sprinkle with sugars or jimmies or other decorations if you like.
Bake at 375F for 7 - 10 minutes and cool on racks.
Enjoy!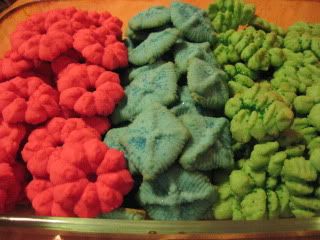 These are definitely one of my kids favorite cookies. They'll be pretty psyched to see them pop up throughout the year.
Hey! I just thought of another occasion for the diamond shaped cookie!!
Yellow, Red & Blue Diamonds...
Go Steelers!!