Hey! Happy New Year!!!
I hope your holidays were merry!
At my
Gingerbread House
Decorating Party, the activity itself took up an overwhelming majority of horizontal surface in my small house.
You might have noticed that I LOVE to feed people. There's no way I would invite people over without serving food & beverages; but this time, there would definitely not be any place for anyone to actually sit to eat. So I decided to serve only appetizers that could be eaten from a napkin or a toothpick.
Jeannie's Little Quiches
would be perfect... hmmm... but little time for making all the little ones, since I procrastinated the menu until the very last minute. So I made her quiche in a 13x9 pan and cut it into little squares. Totally do-able on a napkin. Plus some dips... some olives/cornichons/onions/marinated mushrooms... what else?
Ah!! Sausage Balls!!
Growing up, every Christmas Eve was open house at our house. Our family and friends would come and go all evening. I can remember Auntie Louie and Uncle Bert (titles earned by being close friends to my parents) teasing my sister and I that we should get to bed so Santa would come...
Oh wait... sorry for the detour...
Sausage Balls... my mom made Sausage Balls for our Christmas Eve open house. I don't know if she made them every year or only once or twice. But they stand out in my mind. When something from my youth stands out so prominently like that, I get a little afraid that the recreation of it can never live up to my memory; but the Sausage Balls did not disappoint!
It's a 3 ingredient recipe, courtesy of Bisquick!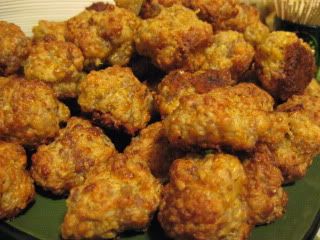 Sausage Balls
2 C Bisquick
10 oz Cheddar Cheese, shredded
1 lb Sausage
Preheat oven to 350F.
Mix all ingredients until very well combined. Form into 1.5 inch balls.
Bake at 350F for about 20 minutes, until lightly browned.
Enjoy!
This is all you need.
You can use whatever sausage you like. I went with Sweet Italian.
Mix all ingredients until very well combined.
The best tool for this is your hands.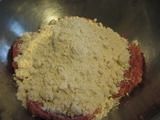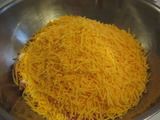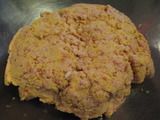 Roll them into balls.
Bake on trays for 20 minutes at 350F.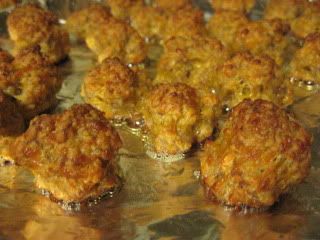 That's it!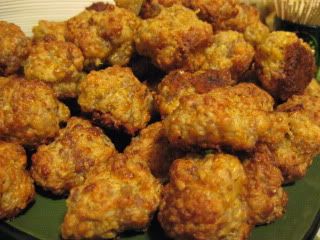 Why did I wait so long to make these?? They were so easy and so delicious!!
They totally lived up to my memory!
Ugh... I'm sitting at my desk, typing this, I had a Lean Cuisine for lunch, I'm looking at an apple... and all I want is some Sausage Balls!!
These were definitely a hit!! Bobby LOVED them. They disappeared quickly! I'll definitely be making them again soon. Super Bowl's coming up, they'd be PERFECT for that!!
If you loved these from your past or are just learning about them today, I highly suggest you give them a try!