This is another one of my very favorite dips!! I remember first making Knorr Spinach Dip more than 10 years ago. I was staying with my friend Debbie and I think we made it for a party. We liked it so much, we made some more and just kept it in the fridge to snack on at will! Which really isn't such a great idea, because it's completely irresistible! It's really easy to eat an entire bowl!
Whenever I make this dip I think of Debbie.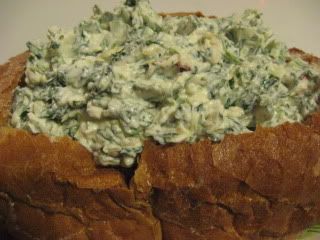 Knorr Spinach Dip
1 pkg (10 oz) frozen chopped spinach, thawed and squeezed dry
1 container (16 oz) sour cream
1 C mayonnaise
1 pkg Knorr® Vegetable recipe mix
1 can (8 oz.) water chestnuts, drained and chopped
3 green onions, chopped
Combine all ingredients and chill for at least 2 hours. I usually serve this in a hollowed out loaf of round bread, with slices of baguette.
This is what you need.
Stir the mayo and sour cream together.
Add the Knorr Vegetable Soup mix, spinach, water chestnuts and green onions.
Stir that all together & chill at least two hours.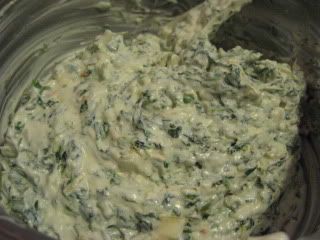 Serve in a hollowed out bread bowl.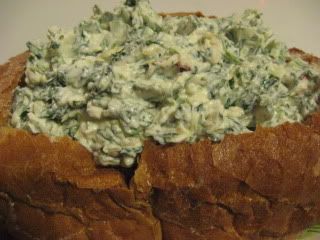 I couldn't find a round one, so I used a football shaped Olive Oil Bread.
I like to serve this with sliced baguettes, but you can serve it with crisp veggies or whatever you like!
This is definitely a favorite in my house. Ok... I KNOW Tawny & I love it. I'm not entirely sure about everyone else. But I haven't had any complaints. Honestly, I like to make little sandwiches out out it.
If you're having a tea party, you could totally use this to make little creamy tea sandwiches.
Or, it would be perfect for your Super Bowl Party!
Go Steelers!!!