I made this quite a while back but never got around to posting it.
It was a really tasty dinner that everyone enjoyed. Well... not Bob... but everyone else really enjoyed it.
This was a great for a night when you have chicken thawed, not a lot of time and have no idea what you want to do with it.
This is stuff I always have on hand, so it came together pretty easily.
Curried Honey Dijon Chicken
Chicken breasts, boneless/skinless
1/3 C Dijon mustard
1/2 C honey (I think I'd use a little less next time)
1 TBLS curry powder
a good pinch cayenne, more or less depending on how hot you like it
Whisk together all ingredients and pour over chicken.
Refrigerate for 30 minutes.
Into a 400F oven for 20 - 40 minutes, the internal temp reaches 165F and/or juices run clear. About half way through, base the chicken with the honey mustard sauce in the pan.
That's it. Pretty easy, huh?
Whisk together sauce ingredients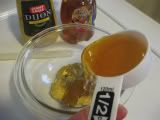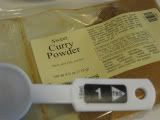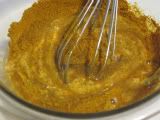 Don't forget the cayenne!
Arrange chicken breasts in a baking dish and pour sauce over them.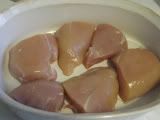 Cover and pop that in the fridge for about 30 minutes.
Put that covered dish into the oven; preheated to 400F.
Baste chicken about half way through.
When chicken reaches 165F, it's done!
Add a side and some veggies... and it's dinner time!