It was a very quiet lazy weekend around Casa de Spryte this weekend. The first weekend in at least a month that we didn't have any company.
I do LOVE having company, but it was so nice to have nothing to do at all.
So, as often happens on lazy Sundays, time just slips away and before you know it... it's dinner time.
Early in the day, Jon & I had decided to grill chicken since it was forecast to be a dry and sunny.
It was 5:15ish and I said, "Why don't you start the charcoal at 5:30?" At about 5:25, I get the "Mom, can you pick me up?" call. UGH! Tawny needed a ride halfway home from work. Weekend bus schedules often leave you waiting almost an hour for your connection, so I picked her up. She wouldn't be to the connection point until 6:13. I told Jon to hold off on the coals until around 6... lost a few more games of Mahjong on my DS and left to go pick up Tawny.
When got home, Jon had the chimneys filled with charcoal and getting hot. It was close to 7 before I actually started to grill.... then I remembered I wanted to grill some onions & peppers too, and make some guacamole so we could have chicken tacos.
Tacos, burritos, nachos... to me they're kind of all the same... mostly the same ingredients, prepared mostly the same, just put together differently for eating. Also, this is the kind of stuff we eat my house regularly. How many posts of basically the same nature do you want to see?
So I figured... chicken tacos... nah... I won't blog about it... just more of the same.
I was wrong.
The chicken tacos turned into chicken fajitas (yeah, still kinda more of the same, I know)
But they were AMAZING!
Again I used
Tyler Florence's Mojo Marinade
and ended up with a big pile of chicken like this.
I also had some onions & peppers drizzled with olive oil on the grill in a little basket. I can't find any previous of pics... so you'll just have to use your imagination... are you doing it? Can you smell the onion & peppers on the charcoal grill??
Of course I had to whip up a fresh batch of
guacamole
. I like my guacamole really basic... just avocado, onion, lime juice & salt.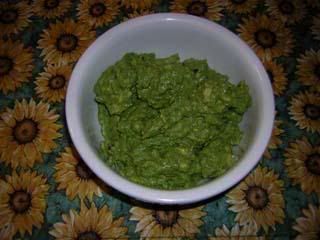 Gorgeous sliced grilled chicken, into a warm soft flour tortilla, topped with smokey grilled onions and peppers, shredded colby-jack cheese, fresh creamy guacamole, and some chunky garden salsa.
Do I have a picture? No.
I ate mine standing over the sink.
It was so good.
You know when you take that first bite and your eyes roll back in your head a little... and your whole body says, "mmmmmmmmmmmm"?
It was that good. It was as good or better than any chicken fajita I've eaten from a sizzling skillet in any TexMex restaurant.
For some reason, beforehand, I didn't consider it blog-worthy.
Was I ever wrong!!