Today my baby girl is 19 years old! The time has certainly flown by. It seems like just yesterday she was born. It was the wee hours of the morning and I didn't sleep at all after her arrival. I couldn't take my eyes off of her. She was perfect. I had never known I could love someone
so
much, until that very moment.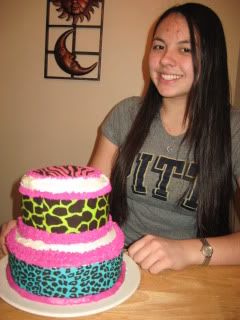 I asked Tawny what kind of cake she wanted for her birthday this year. She requested an almond flavored cake, that was decorated with bright pink and bright lime green. That was actually the same cake she requested last year. But last year, I had a hard time tinting the frosting and instead of bright colors, ended up with something more suited to a baby shower. She gave me a do-over.
Even though she requested that cake, I knew she loved those big cupcake shaped cakes. You know the ones... they look like a big cupcake!
Anyway... I needed to buy a pan.
This pan.
I could only find this at Michael's, since I waited until the last minute to buy one... but they wanted $35 for it!!! I could buy it for $20 on Amazon... AND get free shipping. I was really bummed about such a big price difference. But I was shopping with my friend Erin, and this caught her eye!!
Edible Cake Tattoos??!!! And in fun brightly colored animal prints!!! Those would be PERFECT!!!
They're by
Duff Goldman
, the Ace of Cakes at
Charm City Cakes
.
Duff
has a whole line of stuff to make cool cakes at home! He has loads of Buttercream Fondants, Fondant Cutters, all kinds of Decorating Icings and Gels and Flavored Sprinkles, plus lots of other cool cake stuff. The clerk at Michael's even said that Duff's buttercream fondant is totally yummy... unlike that Wilton fondant.
I would definitely be considered a cake novice and honestly, was a bit nervous that I couldn't make the cake look cool, even with step by step decorations. But I knew Tawny would think this cake was awesome... so I decided to give it try.
For this cake, I had to bake two 8 inch cakes and two 6 inch cakes.
I opened the Edible Cake Tattoo package and this is what was inside.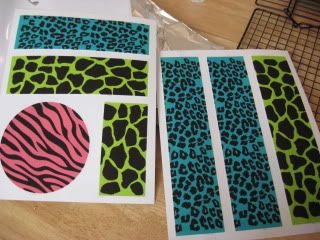 They almost looked like fabric strips.
Time to frost the cakes.
Remember, when it comes to cakes, I'm definitely a novice. This time, I decided the cakes were flat enough to just use as is... but the next time I try this, I'd definitely trim the cakes so they were flat. I did trim one of the 6 inch layers. But I was worried if I trimmed the cakes, I'd need to trim the tattoos and I wasn't sure if I'd end up just making a huge mess.
I definitely could have trimmed them, the tattoos would have fit and after working with them, I feel pretty confident I could have easily trimmed them, without making a mess, if needed.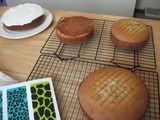 Place the tattoos on the cake.
They go on very easily. You do have to be gentle with them, because they will tear easily, but not so easily, if that makes sense.
There's a white border around each tattoo where the print ends. On white frosting, it totally blends in. But where the seams meet, you'll want to trim it down to the print, so you can't see the seams on the cake.
Tattoos applied!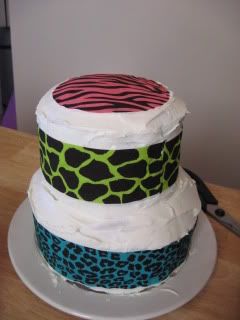 Time for decoration. I used Duff's Icing Pouches.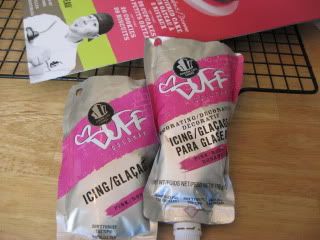 The consistency of these pouches was a little thinner than I would have liked. Also, it was impossible to get the first two or three inches of icing that came out of the pouch mixed. So you definitely don't want to start out directly on the cake.
Once I got the feel of it, it was ok. But I think next time, I'd make my own icing, so I could control the thickness. Actually... only if I can get those vivid colors. I have a REALLY hard time with that. Plus, with my own frosting, I could use a much wider variety of decorating tips. I have a pretty nice set of tips, but you can also get a pretty nice set from Duff!
With my slightly rounded cakes... and trying to get the hang of the thinner than I like icing... this is what I ended up with.
I think it's a pretty decent likeness... especially for someone who just doesn't have much experience with cake decorating.
It's hard to tell in the picture... but those are zebra, tiger and giraffe candles. I found them over the summer and knew I would use them on Tawny's birthday cake. They just happened to fit in perfectly!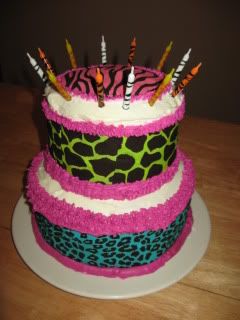 So how does all of this stuff taste you ask?
Not bad at all!
Well... I tried some of the extra tattoo when I trimmed it. By itself, it almost doesn't taste like anything. Everyone liked the pink icing from the icing pouch. I didn't try Duff's cake mix or butter cream icing.
I was a little worried that while cutting the cake, the tattoos would kinda drag and pull, but they sliced perfectly. And when they adhere to the frosting, you really don't even notice any tattoo taste or texture. They kinda become part of the frosting. They're pretty cool!
I have to say I'm very excited about Duff's line of cake decorating products. Stay tuned for Spryte's Adventures in Fondant... coming to a computer screen near you...
As for you Tawny.
Happy Birthday bonita chica! You have grown into a lovely, talented, strong young woman, who is loved very very much. I'm so proud of you. I love you pretty girl!! Happy Birthday!! Love, Mom ♥