So it was October 4... but my kitchen calendar was still on September.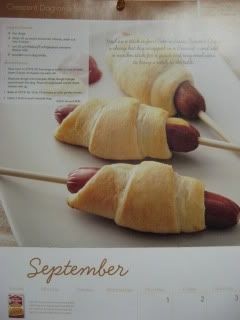 I bought some crescent rolls over the weekend and had planned to make these, just not on a stick.
Bob was walking through the kitchen and said, "mum, you should make those, but without the rolls" I told him that I was making them... but with the rolls, just no sticks. Weird that he'd ask for them on the day I planned to make them. I hadn't mentioned my dinner plan to anyone.
Then Jon happened through the kitchen and said that I should make those but add chili. Again, weird, because I didn't tell anyone what I was making.
Oh! That sounded really good!!
It's usually a 50/50 guess if Bob will want chili on a chili dog and that day, he passed and asked if he could just have hotdogs with cheese.
Lilly is eating a vegetarian plus fish diet these days, so they didn't fit the bill for her either.
Tawny is away at school. She probably would have had one, but would have asked if I'd only put half a hotdog in hers.
Anyway... what seemed to be totally kid friendly food... and only Jon and I wanted any of it!
Crescent Chili Cheese Dog Boats
1 package crescent rolls
4 hotdogs (your favorite kind)
1 can of chili (or your own homemade)
shredded cheddar cheese
Carefully unroll the crescent rolls. Separate the dough into 4 rectangles and pinch the seams through the middles closed.
Spoon a little chili onto each rectangle. Top with a hotdog and then some cheese. Pull all the corners of the dough towards the center and pinch to seal. They won't close all the way... add more cheeses to the opening.
Bake in an oven preheated to 375F for 12 to 15 minutes. Until dough is golden.
Enjoy!
~~~~~~~~~~~~~~~~~~~~~~~~~~~~~~~~~
This is what you need.
Carefully unroll the dough to make 4 triangles and pinch the center seams to seal.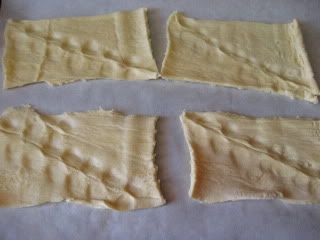 Add some chili.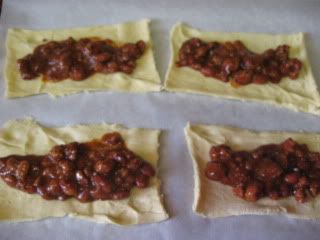 Add the hotdogs.
Some shredded cheese.
Pull the corners toward the center and pinch to seal.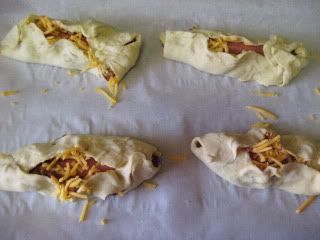 I noticed they were lookin' a little empty... so I decided they should have more cheese.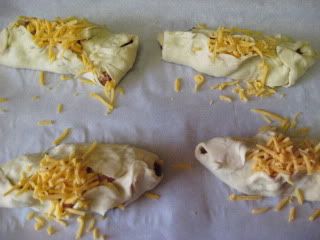 That's better!
Then into the oven for 12 - 15 minutes, until the dough is golden and everything is heated through.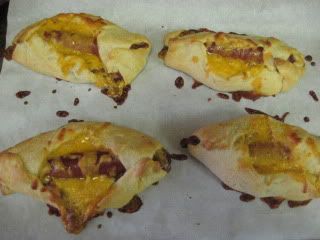 These were so easy!
Mmmmm... melty, cheesy, chiliy goodness... wrapped in crescent dough!
Win!
I think the October recipe is Garlic Stuffed Olives baked in some kinda dough. I'm not typically an olive fan, with the exception of Erin's Olive Cheese Balls OMG DROOL... so I probably won't be making the October recipe. But maybe I'll change the calendar in a timely manner and November will have a cool recipe. We'll just have to wait and see!