Hey look who it is! I'm back twice in one week!
I bookmarked this recipe about a year ago. It's been just sitting in my favorites, patiently waiting for me to finally decide it was time to make them.
I'm not sure how I happened to browse to it. But I found it on a Betty Crocker blog, who noted it was from the Minneapolis Star Tribune Food Section.
My son Bobby LOVES root beer. He drinks gallons of the stuff. So when I saw this recipe, I knew I had to make them.
Root Beer Cookies
slightly adapted
Cookies
4 cups all-purpose flour
1 teaspoon baking soda
1/4 teaspoon salt
1 cup granulated sugar
1 cup packed brown sugar
1 cup butter, softened
1/2 cup flat root beer
2 large eggs
2 teaspoon root beer extract or concentrate
1 teaspoon vanilla
Icing
1 1/2 cups powdered sugar
3 tablespoons flat root beer
2 teaspoon butter, softened
1 teaspoon root beer extract or concentrate
Preheat oven to 375F.
In a medium bowl, whisk together flour, baking soda and salt. Set aside.
Cream together, butter and sugars. Add eggs and mix. Add root beer, root beer concentrate and vanilla. Beat in flour mixture, until just combined.
Drop by rounded spoonfuls, about 2 inches apart, onto parchment paper lined cookie sheet. Bake at 375F for 9 - 11 minutes. Cool on rack.
For icing, whisk together all ingredients and spread over completely cooled cookies.
Enjoy!
~~~~~~~~~~~~~~~~~~~~~~~~~~~~~~~~~~~~~~~~~
Ok, first what you wanna do is make the root beer flat.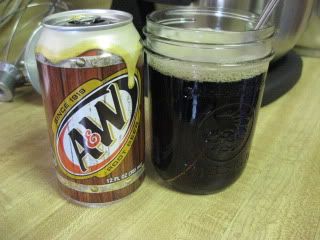 I poured it into a glass and just stirred until most of the bubbles were gone.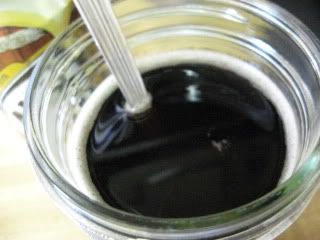 Whisk the flour, baking soda and salt; set aside.
Cream butter & sugars, add eggs, then rootbeer, rootbeer concentrate & vanilla.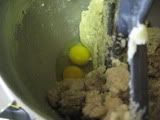 Mix in flour until just combined.
Drop by spoonfuls onto parchment paper lined cookie sheets.
Bake for 9 - 11 minutes at 375F.
Cool on racks.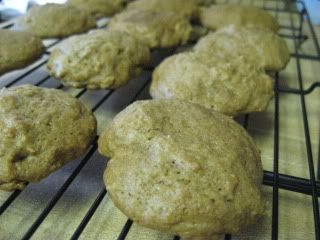 To make icing whisk together all icing ingredients and spread over cookies. I think next time I might leave out the butter. I think the icing would look a little smoother without it.
These cookies were really good! I wasn't sure what to expect from a root beer flavored cookie. I've only had root beer or root beer flavored candy; but never a baked good.
For the concentrate... since I was having a hard time finding it, I was going to just cook down some root beer until it was a thick sticky syrup, but since I had never seen the concentrate, I wasn't sure if that would work. Now I think it would have been totally fine. So if you're having trouble finding the concentrate, you could try to just cook it down from root beer.
Before icing the cookies, I tasted one. I wanted to see how much root beer flavor was in the cookie itself, because I was thinking they might be better with a vanilla glaze to make them root beer float cookies. The cookie itself had a mild root beer flavor, so you do definitely want to use the root beer icing. I was a little nervous about the icing too. I tasted that on its own and it was
really
strong. I was afraid it would ruin the cookies, but it was really perfect! They totally taste like root beer cookies!
If you wanted to try to make a rootbeer float cookie, I think maybe you could swirl the root beer icing with a vanilla icing. I'll have to experiment with that the next time.
But everyone really liked these. At first I was thinking.... "yeah, they're good, but I probably won't make them again." It was mostly the novelty of them. But they really are good! And they're really different. They're be great for a cookie exchange. Something than the same old sugar/chocolate chip/butter cookie.
If you like root beer, I highly recommend you try these!