Yup... I said Bacon Chocolate Chunk Cookies!
This
recipe
showed up on my Facebook news feed from The Cooking Channel last week. As soon as I saw it I knew I had to make them! Jon wasn't quite as excited as me, but he definitely wanted to try them!
Bacon Chocolate Chunk Cookies
12 oz bacon, cut into 1/4-inch pieces
2 1/2 C all-purpose flour
1 tsp baking soda
1 tsp salt
1/4 tsp baking powder
1/2 C unsalted butter, softened
1/2 C reserved bacon fat, chilled
3/4 C granulated sugar
1/2 C packed light brown sugar
1/4 C packed dark brown sugar
2 TBLS bourbon liquor
1 tsp vanilla extract
2 large eggs
8 ounces dark chocolate 65-percent or higher cocoa content, chopped into small pieces
In a large pan, cook the diced bacon until the bacon pieces are golden and crisp. Remove the bacon pieces from the fat and drain on a paper towel. Strain the fat through a fine sieve and measure out a 1/2 cup bacon fat and chill the bacon fat until it congeals and is set.
Preheat the oven to 375F.
Combine the flour, baking soda, salt, and baking powder in a small bowl. Beat the butter, chilled bacon fat, granulated sugar, light sugar, dark brown sugar, bourbon, and vanilla, in a large mixer bowl, until it is well combined.
Add the eggs one at a time, beating well after each addition; gradually beat in the flour mixture. Stir in the cooked bacon pieces and chopped chocolate bits. Drop by rounded tablespoon onto parchment-lined baking sheets at least 3-inches apart.
Bake in the oven for 9 to 11 minutes or until golden brown. Let stand for 2 minutes; remove to wire racks to cool completely. Keep in a dry, airtight container for up to 5 days.
~~~~~~~~~~~~~~~~~~~~~~~~~~~~
A few notes. I had drippings from 2 pounds of bacon chillin' in the fridge when I first read this recipe. So I
knew
I'd be making it very soon. When I cooked the 3/4 of a pound that the recipe calls for, I definitely didn't have 1/2 cup of drippings from it. It might have been close, I didn't measure, but I'm sure it would have come up short. So if you're gonna make these... have a some bacon with breakfast... then maybe make some BLTs for lunch... then fry up the bacon for the cookies... just to be sure you have enough fat. *shudder* Is sounds so gross when you call it
fat
instead of
drippings
! But FAT is definitely what it is!! If you spill some on your recipe, it becomes see-through and a little slippery! These are definitely ~not~ heart-healthy cookies. But they are definitely cool every once in a while!
The starring ingredients for these cookies, ladies & gentlemen, I give you Bacon & Chocolate!
Dice up your bacon and get it into the frying pan.
Chop up that chocolate and set it aside.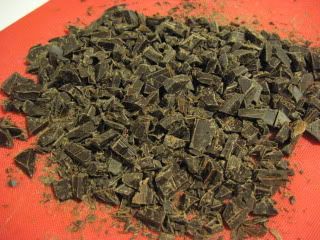 I only used 7oz of chocolate because those bars were 3.5oz each. But the cookies were definitely not lacking in chocolate flavor for the missing ounce.
Drain your bacon pieces (and try not to eat them all)
I don't keep paper towels in the house... so I used a paper bag.
Whisk the flour, baking soda, salt, and baking powder in a small bowl and set aside.
Cream together chilled bacon fat & butter.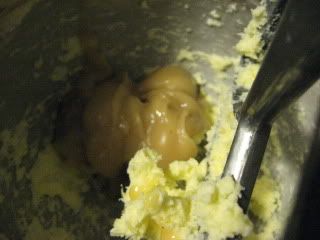 Beat in sugars.
I didn't have any dark brown sugar, so I just added a little bit of molasses.
Beat in vanilla and bourbon
I used Fighting Cock Bourbon
I like to buy the little airline sized bottles of booze and usually pick them by if the bottle is cool... or if I like the name.
Fighting Cock... yeah... I'm immature... but I had 2 tablespoons of bourbon when I needed it! Plus 2 extra tablespoons that Jon sipped while I baked cookies!
Beat in eggs one a time.
Ugh... that left me with one egg from an 18-pack! I hate that! Now I have that big box in my fridge with one egg in it! At least we roll through eggs in my house. So it shouldn't be in there, takin' up all that space for long!
Ok... now gradually beat in flour mixture.
When that's well combined, stir in cooked bacon pieces and chocolate bits.
Now drop by spoonful onto parchment paper lined cookie sheets.
Now bake for 9 - 11 minutes or until golden brown.
Cool on wire racks.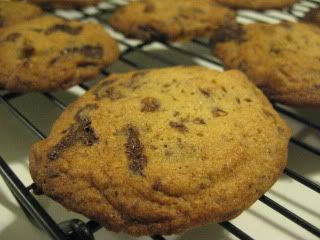 That's it!
So when you tell people you're making Bacon Chocolate Chunk Cookies the reaction seems to be either "Hell yeah!!" or "
WHY
would you do that???".
Jon and I tried them first.
My initial reaction was that they are too chocolatey. I really don't care for chocolate. But you totally get the bacon flavor. The bacon pieces are a little chewy, so it's kind of an odd texture thing, but not off-putting. At least not to me. I think I might have liked this cookie if it had craisins (dried cranberries) instead of chocolate. I also wished a little more of the bourbon flavor was in the baked cookie. It made the batter smell amazing!!
Jon thought they were interesting. But he did eat a few of them. So I guess not bad!
Lilly was one of the "
WHY
would you do that???" reactions and really didn't give the cookie a fair taste and didn't like it.
Bobby didn't like it. But he doesn't like dark chocolate, so I didn't expect him too.
Tawny & Ryan thought they were weird.
I brought some to work. My co-worker Bill says he's never met a cookie he didn't like. These didn't change that! He also brought some home for his kidlets to try. He gave them to two of kids without telling them what they were, but that there was a special ingredient in them. His teen daughter knew immediately bacon was the ingredient. Both liked them. His other teen daughter tried them after being told what was in them and didn't like them. Her boyfriend didn't even want to try them.
My boss George liked them. He said you could taste the bacon. My co-worker Ed was another one of the people with the "
WHY
would you do that???" reaction, but did give them a fair taste and didn't like them.
Jon also brought cookies to work. His co-workers, Jamez, Carrie and Matt all liked them. His boss Lester thought they were odd, but brought one home for his wife to try. She didn't like it. Jon's co-worker Linda LOVED them and brought some home to her husband who also LOVED them!
So it's really a split. But I guess you get that with any kind of cookie right?
If you love bacon and you love chocolate you should definitely try these! If nothing else, they are are interesting conversation starter!